Information for Students
| | |
| --- | --- |
| Sixth Form Staff |   |
| Director of KS5 | Miss H Jackson |
| Sixth Form EPQ Manager | Mrs E Stewart |
| Head of Year 12/13 | Mrs J Page |
| Sixth Form office email (queries and attendance): | sixthform@st-martins.essex.sch.uk |
| Sixth Form Administrator | Mrs V Power |
For specific details on each year group, please use the menu on the left to navigate to the pages relevant to you. 
If you wish to visit St Martin's School, it is easily reached from East Anglia and other major routes from the M25. St Martin's School is situated between the centre of Brentwood and Billericay. The A128 is the main access road to the school, from the A127 and the A12. If you are travelling on the M25, exit at junction 28.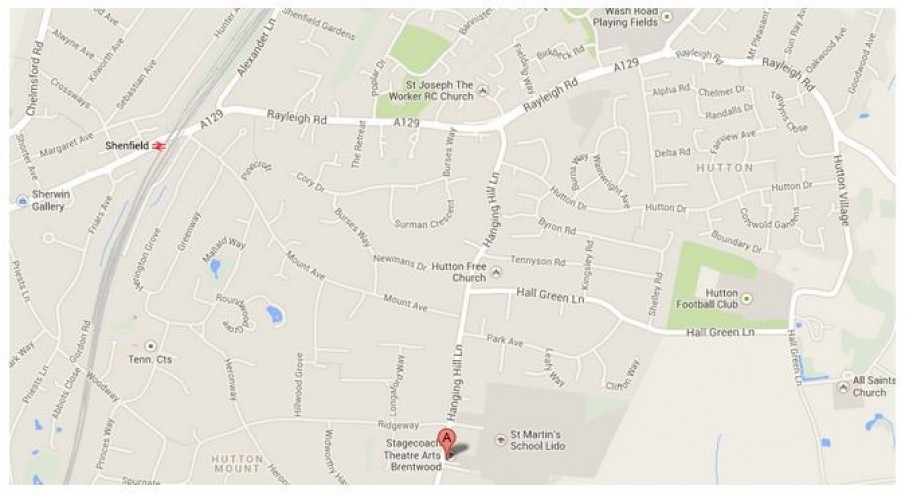 The nearest rail station is Shenfield (on the Southend Victoria-London Liverpool Street line).  The school is an 18 minute walk from the station, through Mount Avenue.
The number 9 bus stops directly outside the school and runs from Brentwood Station to Basildon.
There are several buses from the surrounding area which stop at Shenfield Station (from Brentwood, Billericay, Basildon etc) where students can walk up through Mount Avenue to the school.
Primarily Essex County Council manages school transport and school buses may be available to Sixth Form students on payment of an annual fee. Other bus services on public transport are also available but fares are payable. 
Students are not permitted to drive to school until they have passed their driving test, are in Year 13 and have permission from the Head of Sixth Form. Once students satisfy this condition they may be permitted to drive themselves to school. The school will ask for details of any motor vehicle regularly parked within the school site as parking spaces may be limited.  A parking permit will be issued once all criteria are met and Mrs Howells (Head of Sixth Form) has signed the required paperwork.
Research shows that students who have good attendance records throughout their course are the most successful. For students in the Sixth Form at St Martin's School study should be their first priority.
The school day begins at 8.25 a.m. and all Year 12 students are required to remain in school, working, until their last lesson of the school day. Daily attendance is required but as students become more responsible for managing their own work it may become possible to negotiate periods of "Home Study" when students will be able the leave school early, or arrive later, in order to manage their own learning at home.
Students are expected to attend all timetabled lessons punctually and be well prepared.
Requests for 'holiday leave' during the school term are not authorised.  All absences will affect the student's learning, and their reference from the school which is requested by employers and universities.
Smoking is not allowed on school premises nor is it expected that students will go off premises to smoke during school hours.
The school has a clear policy concerning substance abuse e.g. the possession/consumption of illegal drugs and alcohol.
Any student found under the influence of, or trying to pass on to others, illegal drugs will be reported to the police immediately and suspended from school pending further investigation. Any student under the influence of alcohol will be asked to leave the site, parents will be informed and his/her future at the school will be reconsidered.
Special Educational Needs

The Sixth Form at St Martin's school is open to all students who attain the necessary results at GCSE to satisfy both the general entry requirements and the subject requirements for the A-Level subjects to be studied. Students with Special Educational Needs will continue to receive appropriate support throughout the Sixth Form but it is important that the school's Special Educational Needs Co-ordinator is fully aware of the individual circumstances.
For students who attended St Martin's School in Year 11 the relevant records will already exist but for student expecting to join the Sixth form from other schools and colleges it would be helpful it they could contact the school's SEND department at the earliest opportunity. Contact can be made through the Main School Reception: (01277) 238300.
In many cases the circumstances that lead to additional support in public examinations needs to be re-assessed every two years. Therefore please do not assume that any special arrangement that was available for GCSE examinations will automatically be available for A-Level exams.
Student Voice Representatives
| | | |
| --- | --- | --- |
| Form | Year 13 | Year 12 |
| B1 | Eden Whitmore | Theodor Marian |
| B2 | Lucas Goulbourn | NK Ncube |
| H1 | Phoebe Knight | Lucy Calder |
| H2 | James Edwards | Connor Reilly |
| R1 | Evie Jeffries | Dan Burke |
| R2 | Jess Smith | Alex Syed |
| Q1 | Devan Kad | Brooke Wallace |
| Q2 | Arnaud Salako | Louisa Duff |
As a traditional school, continuing the Pastoral Care is an important feature of the Sixth Form.
For a student transferring into the Sixth Form from Year 11 at St Martin's, there is the advantage that individual students will already be well known and their strengths, and weaknesses, are already identified. Appropriate guidance and support can therefore be offered from the beginning of Sixth Form life and students can focus upon their work and other activities in a secure and well-understood environment.
For students joining the Sixth Form from other schools or colleges the induction process and pastoral system is designed to ease the 'settling in' period and support is available from the Sixth Form Team throughout the transfer process and on into the academic year. The vast majority have settled quickly to the learning, the new environment and high expectations that form part of being at St Martin's.  Pupils joining the Sixth Form are invited in for an induction session to ease transition, and the first day of term is spent becoming familiar with your tutor and fellow form members.
The Personal Tutor is a central figure for students in the Sixth Form at St Martin's School. Tutors have pastoral oversight of about twenty young people and will meet regularly with tutees either individually or in groups.
It is the tutor's role to have an overview of each individual within their Tutor Group and to be the first point of contact between the student, or parent, and the Sixth Form. The tutor will:
Monitor progress and provide initial support and guidance.
Assist in the monitoring of the Extended Project Qualification.
Encourage engagement in Sixth Form life and Enrichment activities.
Act as a conduit for student concerns with subject teachers and other staff.
Monitor attendance and behaviour.
Draft references for university places and for employment.

Supporting the Personal Tutor are Mrs Howells (Head of Sixth Form), and the Head of Years 12 and 13 and Director of Key Stage 5, who take an active role in the lives of students and will personally monitor the academic progress being made by every student as they progress through the Sixth Form.  They liaise closely with Personal Tutors, other staff and parents as necessary. The Sixth Form works closely with other agencies and extra professional support and guidance can be provided through these should this become necessary.
With nearly 400 students in the Sixth Form, St Martin's School has made a considerable investment to provide facilities appropriate for the use of this age group and to support student achievement.
The Sixth Form Centre is a separate building on the edge of the school site and is the hub for Sixth Form activity. It is available for the use of Sixth Form students and seeks to provide an atmosphere where students can focus upon their work and other activities without undue disturbance.
Not all lessons can be scheduled in the Centre and students may find they are taught in the neighbouring classrooms, in specialist rooms such as laboratories and workshops, or in other classrooms throughout the school.
Whilst the Sixth Form has separate facilities, it is important that students in the Sixth Form are active in supporting the work of the Main School and students are encouraged, through an extensive Enrichment Programme, to offer structured support, guidance and opportunities to the younger pupils in the school.
The Sixth Form Centre has excellent facilities containing:
11 Sixth Form seminar rooms
A dedicated Photography Studio
A Sixth Form Library - for silent study
A Quiet Study Room 
Three administrative offices
A large Common Room
A 'bistro' serving hot and cold snacks and drinks.
Sixth Form toilet facilities
An outdoor patio with seating and a secluded grass area
Access to student wifi

The facilities are available throughout the school day between about 8:00am and 6:00pm. Students wishing to make use of the facilities outside the normal school day, perhaps whilst waiting for transport, are usually free to do so.
The Sixth Form Centre is also usually available on school closure days (by prior arrangement) and immediately following the publication of A-level results to support the university 'clearing' process.
Year 13 students can apply for permission to park on site. They need to complete a special request form signed by the student and parent, and provide copies of their car insurance document and driving licence for the Head of Sixth Form to grant permission (at her discretion).  If permission is given, a parking permit will then be generated and must be displayed on the vehicle's dashboard every time the vehicle is parked on site.   NO STUDENT WILL BE ALLOWED TO PARK ON SITE WITHOUT PRIOR PERMISSION FROM THE HEAD OF SIXTH FORM
It must be stressed that parking on site is a privilege, not a right, and the school cannot guarantee a car park place as priority must be given to staff and visitors. The permission can be revoked if students do not adhere to the strict rules as detailed in the request form (available from the Sixth Form Office).  
If students choose to park off site on local roads, we encourage all students to park responsibly being mindful of not blocking driveways and access to local residents.
The school operates a cashless-catering system when students wish to purchase refreshments. Money can be added to their account via the internet using ParentPay.com.  Should students choose to pay by card there is a minimum spend of 2.00.
 
New students from other schools will have their username and password advised to them at the beginning of term; students previously at St Martin's in Year 11 can use their existing details.  If parents have forgotten their password, they can just enter your user name on the website and click on 'forgotten password'.  Details on this facility can be downloaded from the Documents to Download page. 
 
When students leave, parents need to request refund of any outstanding balances BEFORE the student leaves in July, as once the academic year has finished the account is closed.  The cheque payment will be generated by the catering company, not the school.
Towards the end of the Autumn Term of Year 12 students are encouraged to begin thinking about their plans for "life after school". Mrs Howells (Head of Sixth Form) is pro active in providing information, guidance and support to assist with progression into employment or Higher Education. As with other aspects of Sixth Form life it remains important to involve parents in these discussions and decisions. However, the school recognises that this is an important time and that it is the student who has the central role.
During Year 12 there are a number of opportunities for students, and parents, to obtain information and to research opportunities beyond school. It is usually in early June that the formal support provided to help with progression at 18+ begins with a series of Higher Education and employment conferences and workshops.
The Sixth Form holds two higher education activity days where opportunities are discussed and students begin the process of selecting university courses or planning for work. Students considering making applications for Oxford or Cambridge Universities or for courses in Medicine, Veterinary Science or Dentistry should make staff aware as soon as possible as these students need particular advice.
During the Autumn Term of Year 13 students wishing to proceed to Higher Education will make on-line applications with the support and guidance of their Form Tutors and Mrs Howells. Students preparing for employment will normally begin making applications early in the Spring Term and again staff are available to provide advice and guidance.
During Year 13 further sessions are available which focus on Higher Education Finance and how to proceed following A-Level results, especially if these do not go as planned. Staff are available in school following the publication of results in August to help with any problems that may arise.
Students with high target grades and those that are aspirational become part of a Higher Achievers cohort to encourage and prepare them for applying to competitive universities, such as Cambridge and Oxford, and also courses.
Please see below for downloadable documents for current students: